Brett
Feb 18, 2017 13:23:44 GMT -8
Post by Brett on Feb 18, 2017 13:23:44 GMT -8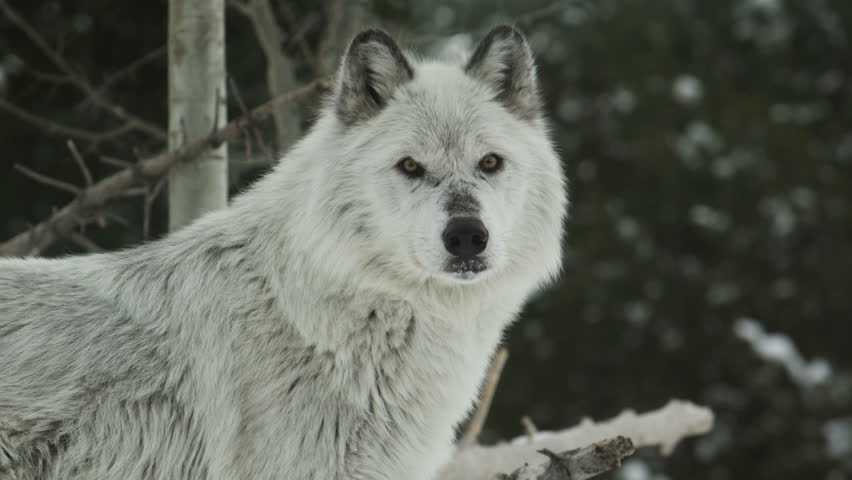 Name:
Brett
Age:
Three
Gender:
Female
Pelt Description:
Brett definitely stands out among other wolves albeit it is safe to say that, for hunting purposes, she wished that she didn't. She is on the larger side for a female, with a sturdy build and, as to be expected from a fighter, well-toned muscles. She has a dark undercoat that shows through her thick white top-coat all along her body, face and ears and her face is accentuated with a pitch-black nose and lips. She has brown-hazel eyes that are also outlined in the same pitch-black.
Personality:
Brett is often viewed as rough around the edges. In fact, she goes out of her way to promote that type of image of herself. For anyone that doesn't know who she truly is, she is seen as more hostile than most. Her first line of defense is intimidation; however if intimidation doesn't sway her would-be opponents, then she is more than capable of following her bark with plenty of bite.
Unlike most aggressive wolves, however, for those that pay attention, she isn't quick to argue or jump in on issues or confrontations. She prefers to sit back calmly, watch and wait until she is needed to intervene. Brett is very controlled in this way, she doesn't allow any emotions to get in the way of her duty, whether that be anger, pride, jealousy or even love for that matter.
Her first two years of life molded her into the controlled fighting machine that she is and will always be. However, having lived as one of the Silver Mist wolves for an entire year now, she has softened. She has learned to trust more, if only a little, and isn't as quick to establish complete dominance and control over others.
Never having a normal pup-hood, she didn't learn to play or communicate with others properly, so her demeanor and behavior are constantly growing, changing and progressing.
Primary Pack and Rank:SilverMistHistory:
Brett was pup-napped from her lone parents, along with her siblings, one by one, when she was barely weaned. Any older and she might have considered the experience fairly traumatic. As it was, she doesn't even remember having any other parents. Ezra was the only alpha or father she'd ever known. From the very beginning, they weren't allowed to play with one another. Every time they would go to play, as pups do, they all get snapped and snarled at. You learned quick to keep your tail close and your ears down when he came for you, or else you'd feel just how angry he was when rules were broken.
Instead of play, they engaged in rigorous, relentless training. He was slowly molding them into merciless soldiers. Not all survived. By the time they were a year and six months old, only three were left of six. The loss of her siblings affected her in an odd way, but she didn't feel the way she should. She did not mourn them as normal wolves would. None of them did. It wasn't until a couple of months later that she found what she felt for their loss had turned into envy.
Throughout her life, because she'd known no different, she never questioned Ezra and his ways. Now, however, as she stood opposite her brother about to engage in a battle for her life, she questioned everything. How was it right to kill another wolf in this meaningless way? Her brother was leaner, faster, but he'd never withstand her strength. Ezra knew who the victor would be, this was a test. For as long as she could, she held out. She didn't fight her brother with all she had. It wasn't until it became clear that defiance would get them all killed, including Jace who was being forced to watch the scene, that she finally decided to end it. Moments after the decision was made, she was dropping her brother's limp and bloody body from her jaws. Though entirely mortified, Brett allowed her training to manipulate her expression into a mask of intense indifference at the lifeless sibling lying only a few feet away.
A few months later, Brett slipped away as quietly as possible into the night, leaving her brother behind, and a few months after that, she found her home with the Silver Mist pack. It was a difficult life to get used to and she'd been reprimanded and scolded too many times to count, but she had finally adjusted to life here and was actually beginning to enjoy herself, despite her past and the secrets she now kept. No one knew that she was forced to slay her own brother and, with any luck, know would ever find out. Who would want her around after they knew something like that?
How did you find us?:
I found an advertisement during a random general search for Warriors role-play forums.
Secret Code:
REMOVED BY REMI
Tagged Staff:
Remi